What makes Loki matter more than most new streaming show launches is that unlike its predecessors WandaVision and Falcon and the Winter Soldier, Loki is the first television series in the Marvel franchise to feature one of the A-list comic book characters in the Avengers mythology.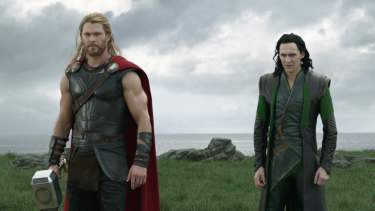 Loading
To give the series an added complication, Hiddleston's Loki, the brother of thunder god Thor (Chris Hemsworth), was killed several films ago, in Avengers: Infinity War. It's hardly a spoiler to reveal that he is effectively resurrected in this series – the clue's in the title, folks – but we will refrain from revealing the how and, pivotally, the when.
Hiddleston's performance as Loki has always been defined by its humour as much as its pathos. Both seem to be on display in equal measure in Loki, leaning into space historically occupied by very British genre shows, like Doctor Who and Red Dwarf. This isn't purely comedy, but there are moments mined for laughs.
What sets it apart, however, is the wolf-in-sheep's-clothing-like quality that has come to define Marvel's storytelling. WandaVision was not a superhero story, but rather a twist on the traditional sitcom which turned into a full-blown subcutaneous horror story.
Loading
And Loki, spun out of a superhero franchise and steeped in comic book lore, turns quickly into a police buddy comedy, with Wilson's Mobius playing the street-weary agent partner to Loki, full name Loki Laufeyson. The result – like much of Marvel's twist-in-the-tale storytelling – is brilliant.
And the last word, predictably, is Loki's, with this dry observation, that could also be a statement on studios, copyright and the new world of streaming. "You ridiculous bureaucrats will not dictate how my story ends!" he exclaims in court. "It's not your story, Mr Laufeyson," replies the judge, dryly. "It never was."
Loki is streaming on Disney+.
Marvel's upcoming TV series
Hawkeye
Jeremy Renner returns as Clint Barton/Hawkeye in this series created by Jonathan Igla and set after Avengers: Endgame (2019). It will air in late 2021.
Ms. Marvel
Iman Vellani stars as Kamala Khan/Ms. Marvel in this series created by Bisha K. Ali and filmed in the US and Thailand. Airs in late 2021.
Moon Knight
Oscar Isaac stars as Marc Spector/Moon Knight in Jeremy Slater's series. Filming began in April in Budapest. Airs in 2022.
She-Hulk
This series stars Tatiana Maslany as Jennifer Walters, the cousin of Bruce Banner, who gains "hulk"-like powers after a blood transfusion, to become She-Hulk. Filming in Los Angeles. Airs in 2022.
Secret Invasion
Focusing on the Nick Fury (Samuel L. Jackson) character, this series is about a sect of Skrulls who have infiltrated Earth society and will be filmed in the UK later this year. Airs in 2022.
Ironheart
This series is focused on the character of RiRi Williams, alias Ironheart. According to US media, actor Dominique Thorne will play the lead. No airdate has been announced.
Armor Wars
Starring Don Cheadle as James Rhodes/War Machine, this series is about Stark company technology that falls into the wrong hands. No airdate has been announced.
Untitled Wakanda Project
Set in Wakanda, the setting of the Black Panther films, it is said to be focused on Okoye (Danai Gurira), the Dora Milaje. No airdate has been announced.
Find out the next TV, streaming series and movies to add to your must-sees. Get The Watchlist delivered every Thursday.